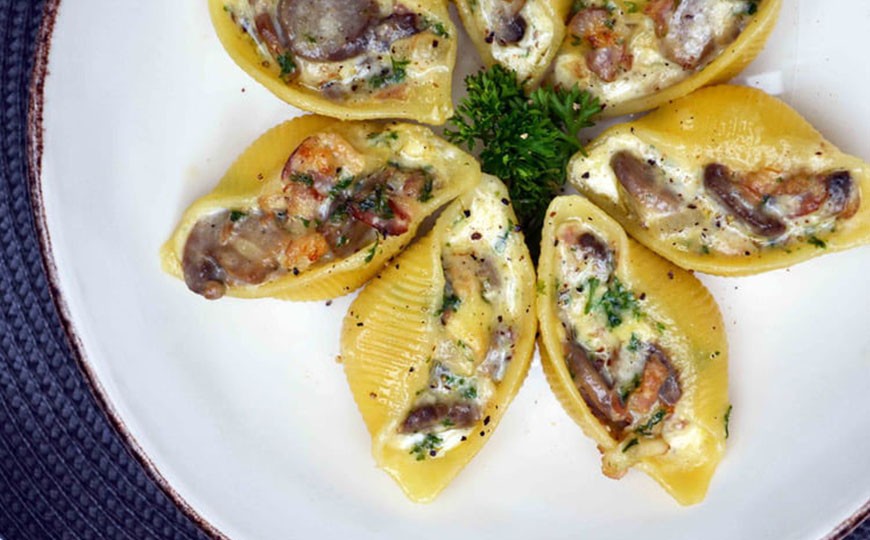 Conchiglioni pasta stuffed with mushrooms, bacon and Reblochon cheese
Production
- Difficulty: Easy
- Preparation: 20 min
- Cooking: 20 min
Ingredients for 4 persons
- 28 conchiglioni
- button mushrooms (fresh)
- 16 to 20 thin slices of smoked bacon
- 1 Reblochon cut into pieces without the crust
-  chopped parsley
- 2 minced shallot
- a little liquid cream
- black pepper and salt
- olive oil
Preparation:
Cook the pasta "al dente" in a large saucepan after the time indicated on the packaging.
Drain, place under cold water, drain again and set aside.
Rinse the mushrooms, drain them…
Grill the bacon slices in a frying pan without fat, cut them into pieces and set aside on absorbent paper…
In the same pan, heat a little olive oil, add the chopped shallot and the mushrooms ... cook for a few minutes.
Add the bacon, the Reblochon pieces and a little liquid cream… lightly salt and pepper. Add the chopped parsley ... Mix and simmer until the cheese is melted.
Place the pasta in a lightly oiled gratin dish and stuff it with the preparation…
Place in the oven for a few minutes to reheat everything and serve immediately…